What Is A 'Content Explosion'?
A Senior Consultant Goes On-Site For A Focused, 4 – 12 Week Engagement That Establishes You As A 'Thought Leader' In your Vertical.
This Engagement Can Be Content Creation *Parallel* To Your Marketing Department, Or We Can Build A Marketing Op, From Zero-To-One. 
Whether Supplementing/Advising Or Managing Your Marketing, Our Scope Is Typically *Content Creation* And Everything Relating To That Content (Offers, Ladders, Web Design, Web Copy, SEO, Channel Selection, Marketing Stacks And Ops Flows).
Scope Of An On-Site Engagement


Stages Of An On-Site Engagement
We Identify Your Unique Sales Proposition
We Go On-Site To Absorb Your Culture, Identify What Is Unique About Your Company, And Make *That* Your Message, So That You Are Differentiated, and Have A 'Niche' (A Monopoly), Which Is A Game-Changer.
During This Time, We Also Talk With Stakeholders, Survey, Audit And Benchmark Your Marketing Ecosystem, And Develop An Action Plan.
We Execute A 'Content Explosion'
This Is Where The Magic Happens. We Have An End-To-End 'Content Wizard' On Site, As An Individual Contributor *And* Project Manager, Orchestrating Professional Graphic Artists, And, On Occasion, Technical Writers. The Result Is The Production of Hundreds Of High-Value Content Pieces, Of Varying Formats And Lengths. The Content Consists Of Novel, Repurposed, And Collaborative Materials.
Content Placed At Funnel Tops
Content Offers Are Placed In Funnel Tops, Which Lead Back To Your Website. A CRM Gathers Leads, Which Are Segmented For Nurturing And Emailed Offers.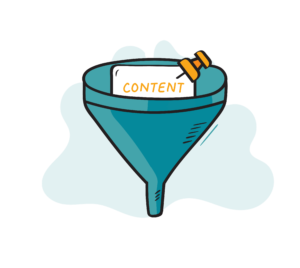 Test, Learn, Optimize And *Teach*
We Don't Stop When Something Works. We *Learn*, Drawing Inferences And Testing Hypotheses.
Domain Analytics Suggest Buyer Persona CRM Segmentation. We Use Those Segments To Tailor Future Content Offers.
Finally, We Teach You How To Use Email To Perform Buyer-Focused, 'Help Marketing', Creating Offers And 'Offer Ladders' (Sequences Of Offers).
Content drives Traffic, Leads And Sales Long After Our Intensive Engagement Ends. We Only Assist One Client At A Time, So Reach Out To Inquire!